VIOLETTE SERIES Shades of violet, lilac and lavender are featured in this series that highlights the gem qualities of amethysts, freshwater pearls, rock crystal and quartz.
VIOLETS & PEARLS Paters are deep lavender faceted quartz topped with gold-tone filigree caps and tiny lavender vintage glass florettes. Freshwater "potato" pearls hail our Lady! Glass seed pearls loop the 24 kt. gold flex wire through the finely detailed Center medal and Crucifix, both bronze.
2nd from Top, shows the Detail of the Crucifix, a find from Mary's Prayers.
VIOLETTE Ave beads are amethyst. Paters are vintage glass lampwork melon beads with gold foil in the center sometimes called "Cazanova" beads. Crucifix and Center Medal are gold-plated. Strung on .019 gauge steel wire dipped in 24 kt. gold with a test strength of 17 lbs.
VIOLETTA CRISTALLE Paters: fluted rock crystal rounds. Aves: lilac lampwork glass beads lined with silver foil inside. The bronze Center Medal, embossed on both sides, is a lovely rendering of the Assumption: a Marvillous fave from Mary's Prayers in Florida! The linear Crucifix is also bronze.
FORGET ME KNOT! Center medal and Crucifix are gold-plated. Faceted lampwork glass rounds with tints of sheer lavender and topaz. Paters are violet quartz, also faceted, and capped by gold-toned florettes, seed pearls and purple Miyukis. Strung with the most pliable flex wire in the Soft Flex line: 49 strands of steel wrapped in nylon with a test strength of 26 lbs.
VIOLETS & PEARLS
CROSS DETAIL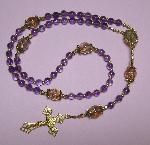 VIOLETTE
VIOLETTA CRISTALLE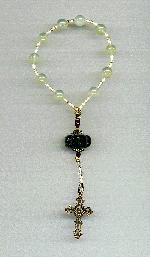 FORGET ME KNOT!